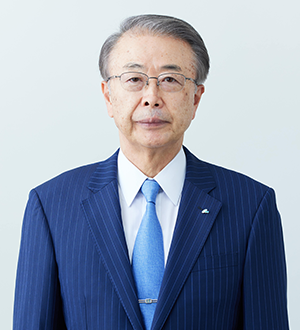 Representative Director, CEO
Atushi Udoh
We will accelerate the transformation to a value-added business model and strive to improve profitability by actively investing in growth areas.
 The prescription pharmaceuticals market during the fiscal year ended March 2022 showed positive growth thanks to a recovery trend of limited clinic visits by patients associated with the spread of COVID-19 infections, although the market was affected by the NHI drug price revisions implemented for the first time in the interim period in April 2021. Owing to contributions from (1) sales expansion of specialty pharmaceuticals and orphan medicinal products, (2) sales growth of COVID-19-related reagents and test equipment, and (3) steady expansion of customer support systems, the Company's business performance has resulted in an increase in revenue and profit, recording 1,266.1 billion yen for net sales (an increase of 4.6% on a year-on-year basis), and 13.3 billion yen for profit attributable to owners of parent (an increase of 168.1% on a year-on-year basis).
 The Group made every effort for transportation of COVID-19-related therapeutic drugs, vaccines, needles and syringes in order to fulfill the "social mission to ensure a steady supply of pharmaceuticals even during a disaster." In addition, we are accelerating the transformation to a value-added business model by further promoting the customer support systems in order to solve issues and improve convenience for patients and medical institutions. Moreover, we are expanding the handling of specialty pharmaceuticals and orphan medicinal products as our highly functional logistics system based on TBC DynaBASE, strict price control, and advanced information infrastructure, etc. being highly evaluated.
 In order to improve profitability over the medium and long term, we will strive to build a lean corporate structure and reduce selling, general and administrative expenses by nurturing and utilizing human resources and promoting structural reforms, including the consolidation of sales bases, restructuring of the logistics organization, and streamlining of head office functions. At the same time, we will actively promote investment in growth areas, such as specialty pharmaceuticals (regenerative medical products, biomedical products, etc.) and biosimilars. As part of these efforts, in March 2022, we acquired a portion of shares of a holding company that holds all shares of AYUMI Pharmaceutical Corporation, a specialty pharmaceutical company in the field of rheumatism and orthopedics.
 The Group will pursue challenges not only in existing business but also in growth areas for stable and long-term corporate growth and contribution to the realization of a sustainable society. At the same time, we will further promote initiatives in each area of the environment, society and governance.